Testimonials
Houzz
Dear Julie Young,
When we returned home last night we immediately went to see our new powder room—gasp!—unbelievable, just perfectly lovely, and we were so happy to the point of going in and out of that area for the rest of our evening, admiring the amazing change from the past ugly to the present beautiful.

This morning we again looked at your perfect workmanship, and my husband said "I can't even see any seams or joins." I then added my comment on how wonderfully smooth the walls were, too. Thank you so much for deciding to smooth the walls before wallpapering; that was much appreciated, and it shows in the final result.

The plumber is scheduled to reinstall the toilet and pedestal sink on Monday, and then we can further enjoy your professional work in its natural setting, as shall others.

Regarding your availability, and being on your calendar waiting list for 4 months, I have to say, was so very well worth the wait; your work and communication throughout have been first class. S.H. (Bellaire)
---
" Thank you so much. As we walk through our master bathroom area we smile and take deep breaths, knowing we are almost at the finish line...close. Thank you for your kind attention and guidance Julie. It was so kind of you to guide me through the process of paper selection and sources. You made this part of our project the smoothest of the whole remodel, and your careful attention to detail is so appreciated. You are a joy to work with, and I am so grateful we had the chance to meet and put our heads together. I hope we have the blessing of working together again on yet another project. " A. & G. H. (Bellaire)
---
"Our son is THRILLED with his Star Wars murals, and you did an amazing job! We've also already had a chance to recommend you to neighbors on NextDoor. Again, thanks so much - you really made a difference for us. " D.W. (Meyerland)
---
"My clients absolutely love the wallpaper and the job you did. They had nothing but nice things to say about you and how much pride you took in your work. I saw the wallpaper last week and it was absolutely beautiful. " N.L. (Interior Designer)
---
"Thank you, Julie! We are just thrilled with the laundry room - thank you for the absolutely perfect work! " T.C. (Montrose)
---
"Thank you so much!! We are REALLY pleased with the wallpaper. All three rooms look great! I will let you know when we have another wallpaper project! It makes the rooms look so good - I may get addicted! Thanks again! " K.J. (Museum District)
---
"My husband and I are incredibly pleased. You have done fantastic work and I'll be sure to post reviews and pics on-line soon. Thanks so much! " K.C. (Houston Heights)
---
"Hi Julie. Years ago, you papered my laundry room and powder room in the Museum District. Your work is impeccable!! I have downsized into a townhouse and would love to paper my powder room and guest bath. Please contact me at your earliest convenience, so we can set up a time for you to measure the baths. Looking forward to seeing you again, and to more beautiful wallpaper. " C. T. (West University Place)
---
"One thing this home building process has taught us is - there are workers and there are craftsman. YOU are definitely a craftswoman who takes pride in her work - and it shows in the final results. " D. & K. B. (West University Place)
---
"I wanted to tell you what a wonderful job you did in our upstairs bathroom!!! It is perfect, and you are so easy to work with! Thank you for your professional efforts and time and the terrific job! We will do our master bathroom next spring... looking forward to having you help us next time! " C. J. (Memorial)
---
"I'm getting tons of compliments on my wallpaper in the powder room and continue to recommend you to anyone who will listen. " H. P. (West University Place)
---
"Thanks Julie you have no idea how much I appreciate it, It is nice to know that I found someone who knows quality people out there. There are so many who aren't. Next time I promise to call YOU early so I can get the best. Also thanks for your quick responses. You just saved me a lot of agony. Have a wonderful week. " Nancy M.
---
"Julie, we were absolutely blown away by the perfection of your work. The room looks wonderful - thank you for doing such an amazing job! " T.C. (Montrose)
---
"Thank you so much for your Absolutely Wonderful Job on the colorful world map mural today! My daughter was so thrilled and exited about her playroom changes! " L.H. (Spring Branch)
---
"We could never be grateful enough, the job you have done, the good care you took of our house, and going home to your job was a joy, it felt like Christmas in the middle of the year. Every time you leave is like Mary Wallpaper Poppins was there. Your perfect job shows, but no trace of disarray or trash or anything else is left. " C.S. (Hedwig Village )
---
"Hi Julie. The dining room and foyer look awesome, and I thank you! It was a pleasure working with you. You do incredible work and are so considerate and tidy. And I really appreciate how you accommodated our aged dog while you were working in the house. " J.V. (Sienna Plantation)
---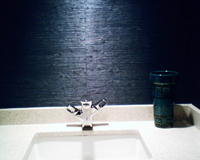 "Suffice it to say I'm delighted with how things turned out – both paper selection and the expert craftspersonship with which it was installed! Thanks again for doing such a wonderful job! Feel free to use me as a referral, and I'm happy to write a testimonial if you need one." - A.R. (Montrose)
---
"Love, Love the way this bath turned out! The wallpaper is the cherry on top!!! Julie did the most phenomenal job. The room is perfect because of her expertise, and with the crowning glory" - the wallpaper.
"She had previously done a small bathroom for me and I was extremely pleased with that, so of course, she would have to finish this bathroom for me too. The paper was beautiful, but if the one installing the paper is not great at what they do, the result can be ruined. She is just the best of the best."
"She is so pleasant, thorough, and a comfortable part of your home while she is here. I would recommend her to everyone. She is the best kept secret that you don't want to keep secret. She puts the polishing touch on the project and is the cherry on top!"
"I need to find more wallpaper projects! I'm glad paper is again part of the home. It brings personality and class that just paint cannot. The only person I would let hang paper for me is Julie, The Wallpaper Lady. Thanks Julie, for making my vision better than I could have ever made it." - C.H. (Meyerland)
---
"Hi Julie, I just wanted to thank you for everything. I really appreciate how clean everything was when you left. I'll be posting some glowing reviews on social websites. Hope to work with you again in the future." - K.M. (Museum District)
---
"Julie, It's wonderful to be able to have someone as capable and easy to work with as you. We're delighted to be able to meet you and have you come over and make our home look so much better!"

"Thank you so much. We enjoyed you being here, getting a chance to talk to you, and the work you did!!! You can count on us to highly recommend you to anyone who wants the best job done, and who wants to work with only the best people. " - J & J M. (Jersey Village)
---
"Julie – bathroom is great! Thank you. If you ever want an(other) glowing testimonial, please ask me. I could sing your praises all day. Beautiful work. " - M.C. (Galleria)
---
"Julie – I absolutely love, love, love my master bath and ½ bath end results! You did a fantastic job, I truly appreciate your attention to detail; and I will definitely recommend you to any of my friends. " - R. N. (Tanglewood)
---
"You did an excellent job. The grasscloth really does make the bedroom much warmer, and the color is so complementary to our furnishings. Thank you." - J. M. (Willowbrook)
---
"Hi Julie, Thank you for emailing me all of this great information - no wonder you are in such demand! Your information is extremely helpful." - S.R. (Interior Designer)
---
"Julie, thank you so much for putting up my mural. I've already sent a picture to my friends and they are all saying how good it looks! If you EVER need a referral please give my number!! Again, thank you so much for the work you did today. It's amazing!" - C.M. (West Houston)
---
"Julie! We just returned home. Your work is beautiful! We are absolutely thrilled!" - S.W. (Upper Kirby Area)
---
"Hi Julie, Just got home and got a good look at our brand new laundry room. It looks Mah-vah-lous!!! Your work is perfection! The outlet and switch plate covers turned out beautifully too. Thank you so much for your care and meticulous work and for tidying up so thoroughly. Many thanks for your high standards and incredible work. I love my new laundry room!" - C.M. (North Houston / Louetta Area)